7 Days Yoga Retreats in Rishikesh
7 Days Weekend yoga retreat programs for Indian students.
Immerse yourself in a transformative 7-day yoga retreat at Akshat Yogshala, nestled in the serene beauty of Rishikesh. Embark on a profound journey of self-discovery, rejuvenation, and holistic wellness in this spiritual haven.
Guided by experienced yoga instructors, delve into daily yoga sessions designed to revitalize your body, calm your mind, and uplift your spirit. Explore a variety of yoga styles and deepen your practice, fostering strength, flexibility, and inner balance.
Experience the transformative power of meditation as you learn to quiet your thoughts, find inner peace, and reconnect with your true self. Nourish your body with wholesome vegetarian meals, promoting overall well-being.
Surrounded by the majestic Himalayas and the sacred Ganges River, Rishikesh provides the perfect backdrop for introspection and growth. Engage in soulful activities, immerse yourself in nature, and embrace the tranquility of this spiritual sanctuary.
7 Days Yoga Retreat: Course Curriculum
Yoga Asana
Pranayama
Naturopath
Ashtanga vinyasa
Meditation
Other Activities:
Ganga arti, Ram jhoola, Janki setu visit, Bitthal Ashram & Geeta bhavan
Daily Three times Satvik Meal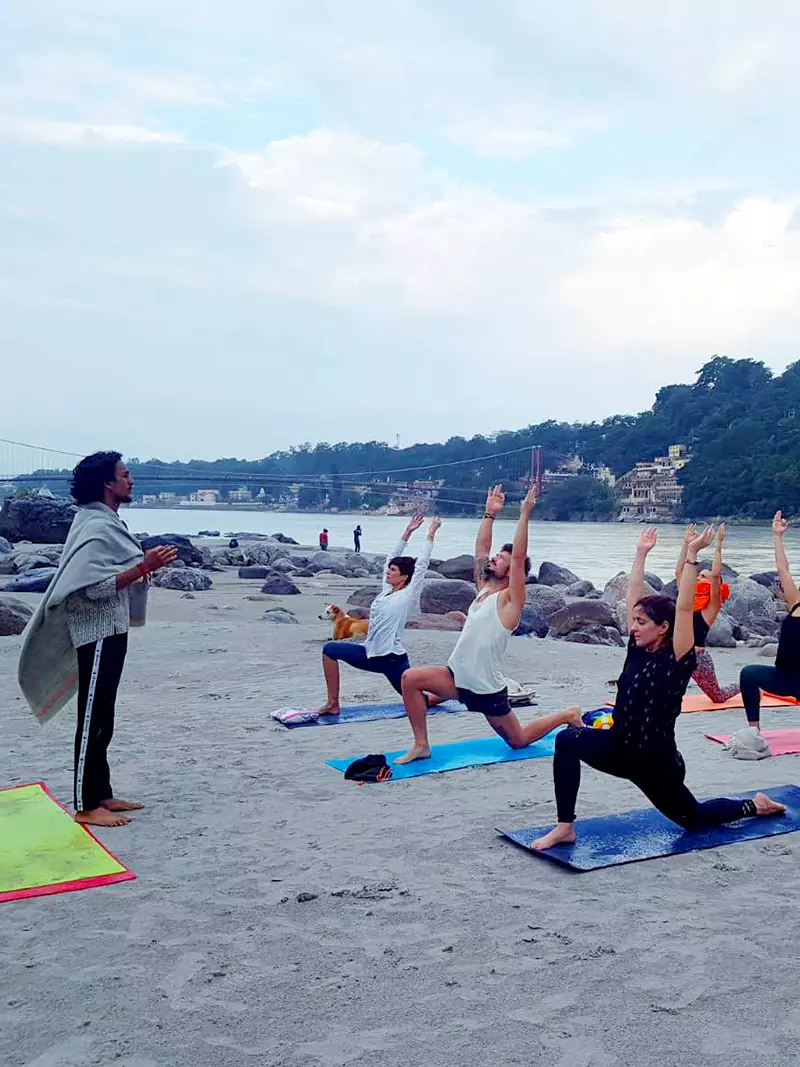 Yoga Retreat Daily Schedule
First Half will be Yoga Detox
| Timings | Yoga Detox Programs |
| --- | --- |
| 06:00 AM | Joints & Glands – Hatha Yoga –  Vinyasa Yoga |
| 07:00 AM | Shat Kriya – Pranayama |
| 08:00 AM | Mantra Yoga -Meditation |
| 09:00 AM | Breakfast |
| 10:30 AM | Yoga Practicum-Adjustment Yoga |
| 12:00 PM | Yogic Cooking classes -Chair Yoga-Yoga Nidra |
| 01:00 PM | Lunch |
Second Half will be Ayurveda Practices
| Timings | Ayurveda Wellness Programs |
| --- | --- |
| 03:00 PM | Facial- Foot- Hand- Head- Back Massages |
| 04:00 PM | Concept of Ayurvedic Nutrition's |
| 05:30 PM | Tea Break |
| 06:00 PM | Ayurvedic Cooking Classes |
| 07:00 PM | Dinner |
| 08:00 PM | Marma Therapy for Common Problems |
Other Activities: During Yoga Retreat
Ashram/Temple Visits
Varkala/Kapil Beach
Boating in Backwaters
Musical/ Dance Program
Student Testimonial
Yoga Teacher Training Student's Review
We conduct yoga teacher training in Rishikesh, Goa, and Kerala. We get lot of love and belief from students. These reviews by our ex-students are an example of this.
Below you'll find answers to some of the most frequently asked question. We are constantly adding most asked question to this page.
Can I know something about the meals offered?
Akshat
2023-02-13T01:15:27-05:30
Breakfast will typically have two fruits, fruit juice (packaged) and upma/poha/porridge/sprouts/idli. You will typically have one portion of dal, vegetable curry, chapatis, and rice, along with yogurt, during lunch and dinner.
Please be informed that there is no food on weekly off days, i.e., three days in the course.
Moreover, meat, eggs, alcohol, cigarettes, and drugs are strictly prohibited.